First Airing of My Novel in Progress
Last Thursday, I was a featured reader at Ballard Library's "It's About Time" reading series. Peggy Sturdivant, the event's curator, gave me fifteen minutes, enough to read three sections. It was a real thrill to read my work aloud to thirty or so strangers and to hear them laugh, moan and squirm at just the right places. Great incentive to keep going!
---
"The Dishes Are Done" Available in Borderlands 6 Anthology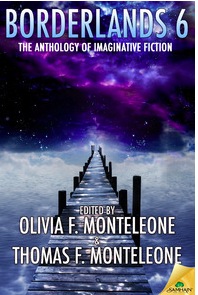 My short story "The Dishes are Done" has been published in the anthology Borderlands 6. The previous book in the series won won the genre's highest prize (Bram Stoker) and counted Stephen King among its contributors. This upcoming edition is edited by Olivia Monteleone and Tom Monteleone.
The paperback and Kindle editions are available on Amazon.com. Please visit my Fiction page to read an excerpt.